11/27/16 - New User Dashboard + ToS Updates
Our team has been hard at work improving our services and process to better serve you. As a result, we've launched a new user dashboard and have made a few updates to our Terms of Service. Please read below to find out how things have evolved!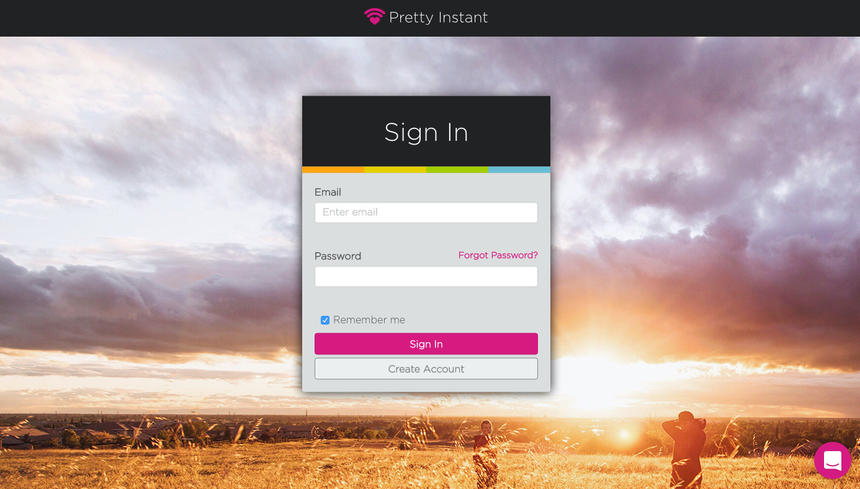 We're extremely excited to launch the first version of our new user dashboard and booking process. This update only changes a few things, but gives you much more control over your bookings and organization of photo galleries.
Go to my.prettyinstant.com to create your free Pretty Instant account
Choose the type of photography project you're looking for
Enter the shoot details and credit card information (don't worry, you won't get charged until after you've received your photos as usual)
Sit back and get ready for your shoot
When we started Pretty Instant our main focus was in event photography, but we've been expanding to all areas of photography over the last 18 months. While on this journey we quickly realized that each type of photography we add requires specific info in order to make each shoot a success. That's where our new booking & quote request forms come in. Our goal is to make sure we have all of the info we need for your shoot while also being as transparent as possible with pricing and photographer availability.
Event Photography:
Booking event photography is now easier than ever. We still do require a one hour minimum for these shoots, but the new booking form gives you more flexibility with bookings in increments of 15 minutes. We also have a dedicated on-site contact section where you can let your photographer know who to talk to and what to do when they arrive, as well as several options for expedited photo delivery.
Quote Requests for higher production photo shoots:
For shoots that need a bit more planning we now have a quote request form which allows you to provide us with info about your project. Once you submit your details our shoot specialists will review your project. We will then either send a quote for you to approve, or they will send an email asking you to schedule a quick 5-minute consult call to discuss your shoot in more detail. While this does add a step to the booking process for some shoots, our goal is to ensure that we have all of the details surrounding your headshot, real estate or product shoot, in order to make sure the end product looks its best.
With the new booking & quote request process we're now requiring that you authorize a credit card or PayPal account to confirm your booking. You still won't be charged until your photos have been delivered and you're happy with them, but we're looking to streamline the billing process as much as possible in order to spend more time focusing on your photos and less time on billing. We transfer your payment info securely to Braintree (a PayPal company) and Pretty Instant doesn't store any of your sensitive payment info at any time. At this time you will be asked to submit a credit card or PayPal account for each booking, but we will soon allow you to store a default payment source in your account.
For the time being this will require companies with multiple team members to have access to a company credit card or PayPal account at the time of booking. If your team members that book shoots have access to this info they can just enter it while booking and they'll be good to go. If they don't have access to this info we will need to find a temporary solution until you're able to store a payment source in your account. If you think we'll need to figure out a game plan in the meantime please schedule a call to chat with our team and we'll be happy to figure something out.
We're just getting started with the dashboard and are constantly adding functionality to make managing your shoots as simple as possible. While we don't have an iOS or Android app yet, the web version is built mobile first so it will look and function great on any device.
If you have any feedback we would love to hear from you!
In order to continue providing the most consistent service possible we are also making some updates to our photo delivery timeframes and cancellation & reschedule policy. These changes went into effect on November 5th and any shoots previously booked will fall under the new policies. Click the links above to read more about these changes. If you have any questions or concerns at all please don't hesitate to reach out.
Note: All existing users as of November 5, 2016 will be upgraded to 48 hour delivery for no additional charge through the end of 2017.
Haven't created your account yet? CLICK HERE to get started.
Happy Shooting! #NoSelfies