INTERACTIVE
Pretty Instant Interactive is our social photography technology that allows us to immediately share photos from an event with the people in them.
You will work with a photographer who will take photos while you use an iPad to share those photos to guests via their email address, phone number or twitter handle.
At most Interactive gigs a Pretty Instant site manager will handle communication with the client and if necessary, provide technical support throughout the event. The client may still talk to you directly if there is a photo that they want you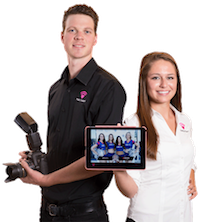 to share.
If you have any questions at the event, please talk to your site manager or contact our Gig Support line directly.
Interactive Booking & Ambassador Staffing Process
Clients typically book our Interactive service several weeks in advance by requesting a quote.
As soon as we have the necessary details from the client a call goes out to our ambassador network.
The first person to respond to a call will usually get staffed for the gig.

Setup
Check in with the site manager. You will be provided with the contact info of the this person in the calendar invite.
If a uniform is required you will be given time to change into your uniform.
Connect the iPad to the hotspot
Open the Pretty Instant app & connect to the camera
Make sure the correct event and frame overlay are loaded by having the photographer take a test shot.
Familiarize yourself with the app interface scrolling through photos.
Once connected and familiar with the app please send a couple of photos to our test accounts so that our team can confirm that the sharing messages and photo branding is setup properly.
Please send tests to the following:

Email: piapptest@prettyinstant.com

Phone: 617-500-1911

Twitter: @piapptest
If there is a slideshow or photo printing at your activation you will be provided with additional information regarding this.
Get familiar with timing and team chemistry by running through the entire photo sharing process with the photographer multiple times.
Make the app disconnect a few times by turning the camera off and back on again to familiarize yourself with reconnecting the app and camera.
During the event
Stay within 15 ft. of the photographer at all times to ensure the app stays connected to the camera.
Be mindful of your surroundings and how guests are reacting to the photographer.
Smile and be confident of the app and process
Unless you can't hear the guest or can't spell the guest's name, do not let them enter their own information.
Etiquette
Don't take breaks at busy times of the event. If breaks are required your site manager will coordinate them for you.
If working with multiple teams try to rotate while taking breaks to ensure complete coverage of the event.
Be mindful of how you represent Pretty Instant while working and while on breaks.
Please do not check your phone when on the floor of the event.